This meme formerly hosted by MizB, is now hosted by Sam over at Taking on a World of Words.
Why not join in? Just answer the following three questions in a post and then put a link to that post in the Comments over at Taking on a World of Words.
The questions are:
What are you currently reading?
What did you recently finish reading?
What do you think you'll read next?
All images link back to their respective Goodreads page.
I've finished another series – or two – read a standalone and started a re-read of a standalone and I'm also putting a miniscule dent in the backlog of ARCs
What am I currently reading?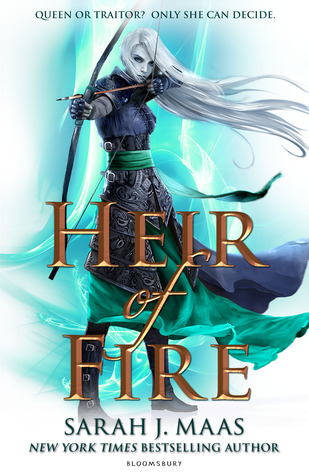 Goodreads Synopsis: She was the heir of ash and fire, and she would bow to no one.
Celaena Sardothien has survived deadly contests and shattering heartbreak—but at an unspeakable cost. Now she must travel to a new land to confront her darkest truth…a truth about her heritage that could change her life—and her future—forever.
Meanwhile, brutal and monstrous forces are gathering on the horizon, intent on enslaving her world. To defeat them, Celaena must find the strength to not only fight her inner demons but to battle the evil that is about to be unleashed.
The king's assassin takes on an even greater destiny and burns brighter than ever before in this follow-up to the New York Times bestselling Crown of Midnight.
Current completion: Page 200 with 10 tag markers. I'm not really feeling Heir of Fire, despite my enjoyment of the preceding books.  It's just filler at the moment. Although I did like Manon's wyvern.
∞
Goodreads Synopsis: 
Celebrate the Regency Bicentenary with lashings of high society scandal and seduction! Part 1 of this sparkling collection is available now, and includes 2 FREE BOOKS!
Current completion: 18% – Finished the first and second book – 3 chapters in to the 3rd book.
∞
Goodreads Synopsis: From the dazzling ballrooms of glittering London society to magnificent, cursed estate in the distant wilds of Yorkshire, comes the deliciously wicked story of a thoroughly unconventional courtship—and a thrilling midnight rendezvous that could only lead to love…
At four and twenty Victoria Huntington thought herself quite adept at fending off fortune hunters… until she came under siege from Lucas Colebrook, the darkly disturbing new Earl of Stonevale. Amidst the brightly plumed birds of the town, Lucas was a hawk. And when he held out the lure of moonlit rides and wild, reckless midnight escapades, Victoria found herself powerless to resist.
But becoming Stonevale's companion in adventure was far more dangerous undertaking than Victoria could ever imagine. For the attractive Earl would use her every weakness to woo her, to win her, and ultimately to wed her. And soon the amber-eyed lady would find herself ensconced in a crumbling mansion deep in the English countryside… where the real reason for her hasty marriage becomes all too apparent…and where the ghosts of her dark-stained past are waiting to rise up in a terrifying plot that will threaten her life, her honor, and the only man she could ever love.
Current completion: 16% – rereading so I can catch up on the next books though I think they're standalone I enjoyed this one so much the first time round I'm reading it again.
∞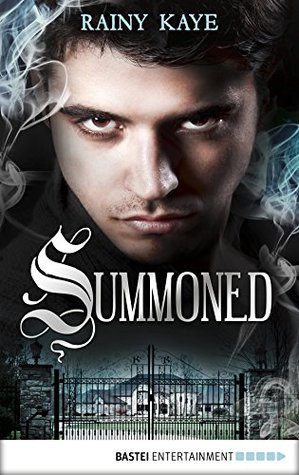 Goodreads Synopsis: Twenty-three year old Dimitri has to do what he is told – literally. Controlled by a paranormal bond, he is forced to use his wits to fulfill unlimited deadly wishes made by multimillionaire Karl Walker. Dimitri has no idea how his family line became trapped in the genie bond. He just knows resisting has never ended well.
When he meets Syd – assertive, sexy, intelligent Syd – he becomes determined to make her his own. Except Karl has ensured Dimitri can't tell anyone about the bond, and Syd isn't the type to tolerate secrets.
Then Karl starts sending him away on back-to-back wishes. Unable to balance love and lies, Dimitri sets out to uncover Karl's ultimate plan and put it to an end. But doing so forces him to confront the one wish he never saw coming – the wish that will destroy him.
A dark twist on genie folklore, SUMMONED follows a reluctant criminal as he unravels the mystery of the paranormal bond controlling him.
Why? I was kindly given a copy of this and the next in the series Stifled by the publisher via Netgalley. It sounds absolutely amazing and I can wait to get my teeth into it.
Current completion: 14%. It's actually quite interesting, I thought it would be different and it is. I like the main character Dimitri as he's a Djinn or genie.
What did I recently finish reading?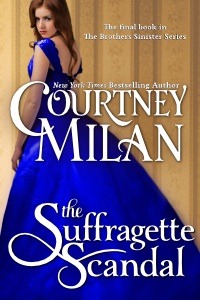 Goodreads Synopsis: An idealistic suffragette…
Miss Frederica "Free" Marshall has put her heart and soul into her newspaper, known for its outspoken support of women's rights. Naturally, her enemies are intent on destroying her business and silencing her for good. Free refuses to be at the end of her rope…but she needs more rope, and she needs it now.
…a jaded scoundrel…
Edward Clark's aristocratic family abandoned him to die in a war-torn land, so he survived the only way he could: by becoming a rogue and a first-class forger. When the same family that left him for dead vows to ruin Miss Marshall, he offers his help. So what if he has to lie to her? She's only a pawn to use in his revenge.
…and a scandal seven years in the making.
But the irrepressible Miss Marshall soon enchants Edward. By the time he realizes that his cynical heart is hers, it's too late. The only way to thwart her enemies is to reveal his scandalous past…and once the woman he loves realizes how much he's lied to her, he'll lose her forever.
My Verdict: ★★★★ My review is here
∞
Goodreads Synopsis: Sophie black has turned her back on both her cheating husband and her sexy, enigmatic boss Lucien Knight. When she hits rock bottom, she finds herself drawn back into Lucien's glamorous no strings, high stakes world of intensely erotic encounters.
Bold and beautiful, Lucien is a walking, talking Viking sex god-the ultimate rebound guy. His is a seductive world of pleasure without limits or commitment, but can Sophie's already bruised heart survive his strictly no ties rule?
When her husband returns with his tail between his legs, Sophie is faced with the toughest decision of her life. How does she choose between the man she vowed to love forever and the man who she hadn´t planned on loving at all?
Knight & Stay is a star-crossed romantic adventure that spans the globe from Paris to the glittering artic northern lights, a sexual odyssey of love and lust that changes the lives of everyone involved forever.
My Verdict: ★★★★
 ∞
Goodreads Synopsis: Kara Brookes hates liars.
Dylan Day hasn't told the truth from the moment his plane touched down in Ibiza.
It's a recipe for disaster.
Romantic, emotional and intensely erotic, Knight & Day is the thrilling final installment of the USA Today bestselling Knight Series from Kitty French.
Lucien and Sophie are back, and have set up camp on the sun-drenched isle of Ibiza for the opening of the latest of Lucien's strictly adult clubs.
They're joined for the summer by Sophie's best friend Kara, and Dylan Day, Lucien's newly appointed club manager.
The laid back, smokin' hot surf guy from California seems almost too good to be true… but there's no smoke without fire.
It's going to be a long hot summer of love, lust, lies and wedding bells. But who will get their happy ever after?
Knight & Day is the thrilling conclusion to the USA Today best-selling Knight erotic trilogy. Whilst it can be read as a stand alone story, it's best enjoyed as the finale of the set.
My Verdict: ★★★★ 
∞
Goodreads Synopsis: Pretty things aren't meant to be broken.
But I broke her, and now we both have to pay the price.
I'm her nightmare.
I'm her savior.
And now that I have her signature on an ironclad contract, I own her body and soul.
She doesn't remember me.
She will.
It's inevitable.
Because as much as I know I need to stay away, for fear of unlocking the memories I helped her father bury–I can't.
She was the apple in the Garden, dangled in front of me, her core so tempting and sweet. A voice whispered. Just. One. Bite.
I bit.
I tasted.
I fell.
Welcome to the world of the Russian mafia, where death, is your only future.
My Verdict: ★★★★★ Oh my god. There was so much happening in this book it was brilliant. Crazy Russians, crazy Italians, a crazy hot – slightly psychotic – doctor with hypnotising skills, lots of brain washing – and a female Jack the Ripper! All kinds of amazing going on in this book.
What do I think I'll read next?
I actually don't know. I'm not reading what I say I'll read and I'm picking at will from my kindle.
Goodreads Synopsis:  To reach greatness you must step on bodies, and many brothers lie trodden in my wake. I've walked from pawn to player and I'll win this game of ours, though the cost of it may drown the world in blood…
The land burns with the fires of a hundred battles as lords and petty kings fight for the Broken Empire. The long road to avenge the slaughter of his mother and brother has shown Prince Honorous Jorg Ancrath the hidden hands behind this endless war. He saw the game and vowed to sweep the board. First though he must gather his own pieces, learn the rules of play, and discover how to break them.
A six nation army, twenty thousand strong, marches toward Jorg's gates, led by a champion beloved of the people. Every decent man prays this shining hero will unite the empire and heal its wounds. Every omen says he will. Every good king knows to bend the knee in the face of overwhelming odds, if only to save their people and their lands. But King Jorg is not a good king.
Faced by an enemy many times his strength Jorg knows that he cannot win a fair fight. But playing fair was never part of Jorg's game plan.