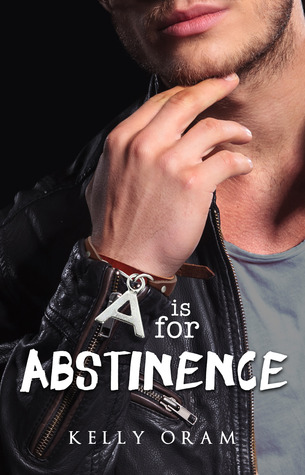 Publication date: May 12th, 2014
Format: Kindle, 204 pages
Synopsis: Six-time Grammy Award-winning musician Kyle Hamilton has it all—money, fame, talent, good looks, and a job he loves. His only regret in life: walking away from a certain notorious virgin because he was too prideful, stubborn, and even afraid to give her the only thing she asked of him—his abstinence.
Four years and a broken heart later, Kyle realizes that sex isn't everything, and he suddenly can't stop thinking about the girl that got away. Virgin Val Jensen got under his skin like no one else ever has. He wasn't ready for her then, but things are different now. He's grown up, he's learned a few things, and he's finally figured out exactly what he wants, or, rather, who he wants.
Kyle Hamilton wants a do-over, and this time he's willing to do—or not do—whatever it takes.
My review: 
After V is for Virgin I didn't know what Kelly Oram could bring to the table at least until I read A is for Abstinence.
A is for Abstinence follows Kyle Hamilton four years after the ending of V is for Virgin (prior to the epilogue as that is also set four years later but from Val's POV) he walked away from Virgin Val Jensen because he couldn't give her what she wanted so he moved on; Tralse continued to be successful until Reid (the drummer) died from a drug overdose whereupon the band split – stands to reason really.
This whole book is from Kyle's point of view and it's nice to have the change-up from books that are always from the female's POV – guys have feelings too.  Previously, Kyle came across as a 'player' who wanted nothing more than getting in a girls knickers  and wanted nothing more serious than a toothache from them either; by contrast in A is for Abstinence Kyle has settled down his ways and got himself a fiancé – but not Val instead it's a groupie.
It turns out that the song that Kyle wrote for Val in the first book hasn't been sung in four years, the day after he left her he had it removed from the bands set list pissing off a lot of people – now I'd say that's a pretty strong reaction from someone who only wanted sex – he's asked to sing it at his birthday party by his fiancé and he refuses because it's painful for him to sing, the fiancé knows this but asks it of him anyway because she's jealous and she wants to strike out at him because he loves Val still.
When he finally plucks up the courage to sing it he – and all of his party guests – see his fiancé making nice with another man – cue the degradation of his engagement and the beginning of his realization that sex isn't important without love.
Kyle goes on a mission – he abstains from sex, joins the foundation that is dedicated to abstaining from sex and virginity as their new spokesperson and finally gets Val to go out with him.  Though he at last succeeds at getting Val to be his girlfriend there's something missing and it isn't him that's causing it; Val is understandably keeping herself apart from Kyle due to the fact that he broke her heart the first time around but Kyle does everything he can in order to get Val to see that he is a changed man.
The wooing in this book, the relationship that they have is fundamentally more romantic than the previous book and it makes the story.  Every relationship has their bad patches, their utter dislike for one another on occasion and A is for Abstinence takes that dislike from V is for Virgin and turns it into love.  Val and Kyle get married in the end, a quick wedding at the county office, her 'V' necklace is replaced by – and it's so cute – a 'K'  that is nearly identical.
The first book wasn't so much romance as relationships everywhere and building of the characters and their back stories, this one was the culmination of the characters and their stories.  It was well written and the characters were still likeable, even Cara after I didn't think much of her in the first book.  There were no loose ends that I sometimes see and not many editing errors either.
Overall, this was a very cute series and I enjoyed it.  Who knows, maybe a sequel will be introduced.
My rating: 5 stars